6teen
Talk

0
297pages on
this wiki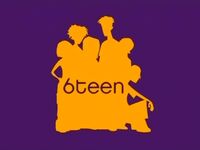 6teen is a Canadian animated teen sitcom first aired on November 4, 2004. It is created by Tom McGillis and Jennifer Pertsch. It is set in the fictional "Galleria Shopping Mall" and follows an ensemble cast of six sixteen-year-old friends as they explore their first part-time jobs and lives as teenagers. It is a Fresh TV Inc., Nelvana Limited and Teletoon Television Production.
The show has also been re-airing in the USA on Cartoon Network after having been dropped from two other television channels, though is airing episodes in random order. For example, Cartoon Network would air a first season episode as a "new" episode, then the next "new" episode would be from Season 3, and the one after that could come from Season 2, causing much confusion. Due to the slightly more lenient Canadian TV ratings system, the series is always rated G there, but Cartoon Network's rating for 6teen is either TV-PG or TV-PG D.
Since its debut, the program has aired 91 episodes over four seasons, as well as two one-hour specials. The fourth and final season debuted on September 10, 2009, and included 13 episodes, ending on February 11, 2010. A Nelvana Limited production, the series' characters are voiced by young Canadian actors, and the show continues to draw positive response, with critical reception from sources like the Pucinella Awards and the Alliance for Children and Television.
Storyline
The show is about 6 sixteen-year-olds who go on misadventures throughout the Galleria Mall. Most of the time, the episodes take place where the 6 teens sit at a table.
Characters
Main Characters
Wyatt is a 16 year old who wears a maroon t shirt, cargo pants and white a black sneakers. In Seasons 1 and 2, he worked at a place called Spin This but got fired for bothering Serena, the manager. now he works at Burger McFlipster's. He hates country music and to his dismay, had to work in the country section at Spin this. He likes to play his guitar.
Jude is a 16 year old guy who wears a peach shirt, and jean shorts. In Seasons 1 and 2, he worked at a place called Stick It, but due to a health violation that caused the restraunt to shut down, he now works at Underground Video. His catchphrase is "bro" and "bra" when he refers to boys or girls. (He obviously has a surfer dude accent) He likes to skateboard through the mall. He's one of Ron's "repeat offenders".
In the episode Lights Out, he was with Starr until she decided to break up with him. As of now, Jude's single.
Caitlin was a 15 year old, but she turned 16 in the episode Sweet 6teen. She is usually seen wearing a pink tank with a skirt. Ever since season 1, she's been working at The Squeeze. Caitlin is good at giving dating advice. She had many boyfriends, but they all broke up with her because she likes to stalk where they all go. Also, out of all of the gang, Caitlin is seen crying the most. She is a bit spoiled by her parents.
Jonesy is a 16 year old who wears a burgundy shirt and jeans. He is usually the one being ended up hurting the most because of his antics. Unlike other characters, Jonesy has a lack of maturity and intelligence. His current girlfriend is Nikki, but he dated other girls than just her. Also, a running gag consists of him getting fired from every job he sees.
Nikki is a 16 year old who wears piercings, a sleeveless white shirt, and jeans. She can be cynic and sarcastic, but is usually sensible among her friends and highly independent. She works at the Khaki Barn, the store she hates working at.
Jen is a 16 year old who wears a light purple hoodie and a white skirt with light purple stripes. Jen is responsible, commited, and admirable. She has traits of a Type A personality, which is hinted thoughout each episode.
Ron is the mall security guard, and a war veteran. He wears a light beige double-pocket shirt, lime green pants with red stripes, and black suede shoes. He is one of the primary antagonists of the show, and has a mutual dislike to Jonesy and Jude because he tries to constantly thwart their pranks, scams, and other gags. Ron also has a major dislike for teenagers, especially Jonesy and the rest of the gang. He also has a tendency to call the gang "maggots" when he knows they're up to something.
Coach Halder is the boss of The Penalty Box. He wears a referee shirt, black pants and shoes. He appears to be very strict about his rules, and gives his employees actions for the many idiotic reasons he has. His quote is "MASTERSON!", which he yells whenever Jen makes a simple mistake.
Recurring Characters
He is the owner of the Big Squeeze, and was introduced in the episode A Lime to Party. When Caitlin didn't know who was her employer, she found out it was Big Steve between the episode The Big Sickie and A Lime To Party. Despite his name, Big Steve's not very tall as he is quite short. He wears an oversized cowboy hat to compensate his size, he is also from Texas, and is most likely a cowboy and/or someone interested in livestock. He is generally considered to be nice until in the episode Out Of This World, he threatened to fire Caitlin because the blender was broken.
Both of these guys are co-managers at Taj Mahome Video, and they formerly worked at Things That Beep. Blade wears a black shirt, blue jeans, and black sneakers. Christo wears a black muscle shirt, dark blue jeans, and black loafers. Both of them always have one eyebrow raised, as they both have cocky personalities. Both of them used to work with Jonesy. (He was fired for stealing a plastic pen.)
Courtney is Jen's sexually attractive and more appealing sister who was introduced in the episode "It's Always Courtney, Courtney, Courtney!" Courtney wears a low-cut sleeveless shirt, maroon pants, and purple high-heels. She attracts Jude, Jonesy, and Wyatt. Jen, however, is suprised to hear that Nikki and Caitlin couldn't get enough of Courtney's stories about dating, traveling, and college. She flunked out of her college year, and is supposed to be 19 years of age.
Darth is a geeky, lightsaber-wielding Star Wars fan, and assistant manager of Stereo Shack. He wears a blue shirt with a tie, a black cape, sometimes Darth Vader's helmet. His girlfriend is Julie, the manager/server of Wonder Taco. He is seen to be a friend to the main gang, but is often picked on by Jonesy. In the 6th grade, he was embarrassed by Jonesy when he gave him an atomic wedgie in front of the whole school. He had a huge crush on Nikki, and once, Jen.
Emma is the mother of Jen, Courtney, Emma Masterson, Jr., and the step-mother of Jonesy. She wears a low-cut red long-sleeved shirt, blue jeans, and red high-heels.
Gwen is one of Tricia's snobbish friends. She wears a pink skirt with ruffles, and black top, a purple hat, and pink sneaker heels. On some occassions, Gwen is rather nice and waves at Wyatt and Jude. This could mean she's only a snob when she's with Tricia.
Julie is a geeky girl who works at Wonder Taco. She wears a white shirt with red rims at the sleeves, red pants, and dark brown shoes. Julie has braces that give her a lisp, and spit when she talks. At Wonder Taco, whenever a customer makes fun of her, she would spill dirt, dust, and her own saliva into the tacos and serve it to her customers. Julie is also Darth's boyfriend. When she would have to wear a costume to the mall, she would dress up as Princess Leia from Star Wars Episode VI: Return of the Jedi. She, like Darth, is an expert on anything Star Wars related. She would get jealous if she sees Darth with another girl rather than him.
Lydia is an attractive, but crazy woman. She wears a pink shirt, purple jeans, and shoes similar to what Caitlin wears. She would twitch her eye in a creepish way to show that she's mentally unstable. She follows people thinking that they like her around. Lydia chased Jonesy a lot, and Jonesy used several costumes in the hopes of hiding from her. She also has a weird obsession with chickens, which makes the gang call her a "Crazy Chicken Lady". This obsession is augmented by that the fact she'll give whomever her newest crush with a statue of a rooster.
Marlowe is Wyatt's former girlfriend. She wears a lavender tank and maroon jeans. At the time, she was Wyatt's girlfriend, and both Wyatt and Marlowe are in the same music group. After getting on each other's nerves, Marlowe and Wyatt are good friends.
The Penalty Box Customer is a regular at the Penalty Box.
Minor Characters
To be added...
Gallery
Main Characters
Recurring Characters
Minor Characters