Home
Talk

9
298pages on
this wiki



HAPPY
BIRTHDAY
---
Welcome to the 6teen Wiki!
Why is "Happy Birthday" at the top of this page? It's quite simple, really. You see, the first episode of 6teen, Take This Job and Squeeze It, aired on November 7, 2004. As such, November 7, 2014 is the tenth anniversary of the premiere of 6teen. To celebrate, we're throwing the show a birthday celebration throughout the month of November, featuring an episode for every day of the month. So come on in, everyone, and enjoy 6teen's 10th birthday celebration!
---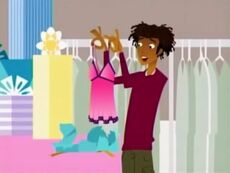 Featured Episode, November 1:
The Birthday Boy
Wyatt's
birthday is coming up, and while this would be a time of celebration for most, it isn't for him. You see, every year his family throws him a themed birthday party; unfortunately, this is a family tradition in a huge extended family, so the themes have long since become ones like "Diseases We're Glad We Don't Have" and "The Color Brown." However,
Jen
isn't going to sit idly by while her friend suffers! She decides to throw him a great birthday party. Unfortunately, her plans are soon derailed by
Jude
becoming obsessed with a
Sims
-like video game and
Jonesy
taking up all of
Nikki's
time getting her to help him study for an upcoming geography exam.
Script:
The Birthday Boy/Script
---
---