Home
Talk

9
298pages on
this wiki



HAPPY


BIRTHDAY
---
Welcome to the 6teen Wiki!
Why is "Happy Birthday" at the top of this page? It's quite simple, really. You see, the first episode of 6teen, Take This Job and Squeeze It, aired on November 7, 2004. As such, November 7, 2014 is the tenth anniversary of the premiere of 6teen. To celebrate, we're throwing the show a birthday celebration throughout the month of November, featuring an episode for every day of the month. So come on in, everyone, and enjoy 6teen's 10th birthday celebration!
---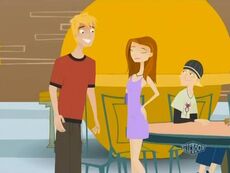 Featured Episode, November 20:
Cheapskates
A new male hire at the
Penalty Box
catches
Jen's
eye, and they soon begin dating. However, their relationship runs into trouble when it turns out that Jen's new boyfriend is a penny-pinching, miserly cheapskate who does everything in his power to avoid spending money.
Caitlin
would like to argue that she has it worse, though, as she's fallen in love with a boy that (due to a misunderstanding) she believes only speaks Spanish. As such, she's trying to learn the language, but is having problems as she isn't catching on to it quick enough to appropriately communicate with her new crush. Meanwhile,
Jude
falls in love with a pair of heat-reading infrared goggles that
Ron
has purchased in order to help capture lawbreakers.
Script:
Cheapskates/Script
---
---