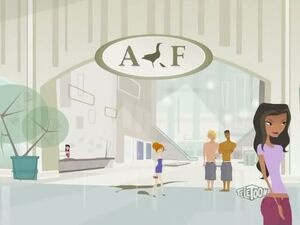 Albatross & Finch
is a clothing store in the
Galleria Mall
. It sells fashionable clothing and is regarded as one of the coolest stores in the mall. It is one of
Caitlin
and
Tricia
's favorite stores.
History
The first major appearance that the store made was in "The (Almost) Graduate," when Caitlin and Jonesy both attempted get jobs there. Caitlin was refused, but Jonesy was hired, because he more naturally exuded coolness (mainly because he didn't really care about getting hired to work there). However, later on in the episode, the other employees of the store started making fun of Caitlin because she wanted to wear the official uniform of the employees, which led to Jonesy mooning the store and then quitting in a show of solidarity with Caitlin.
In "Waiting to Ex-Sale," most of the plot involving Caitlin and Jen took place inside the store, as they were having a "Once-in-a-Lifetime Sale." This name was given to the sale because, as an upscale clothing store, Albatross & Finch apparently rarely has sales.
It also appeared in "A Crime of Fashion" when Tricia framed Caitlin for stealing from the store. Nikki also once tricked Chrissy into wearing a giant albatross costume and walking into the store by making her think that A&F planned to hire her in "Another Day at the Office."
Employees
The employees of the store are called Greeter Gods if male and Greeter Goddesses if female. They are all attractive but stuck-up, and are under instructions to ignore, rather than help, customers. Part of the store's aura is that it treats itself as though it is above its customers, which helps to reaffirm its status as an elitist store.
There is also a set uniform for both genders. Males wear board shorts and go shirtless, showing off their toned bodies, while females wear tube tops and
History
In "Waiting to Ex-Sale", they had a Once-In-a-Lifetime Sale, which implies they they are extremely expensive and rarely have sales. It is also one of Caitlin's favourite stores in the mall, but due to the fact that she was in debt, she settles for The Khaki Barn, which also sells clothes, but for less. Their mascot is an albatross and Chrissy was once tricked by Nikki into wearing an albatross costume and walking into the store.
Jonesy briefly worked there as a Greeter God in "The (Almost) Graduate" after he was hired instead of Caitlin at a job interview, but when the store employees later humiliate Caitlin for "not being fashionable or cool", Jonesy stands up for her and gets himself fired after mooning the stuck-up Greeter Gods and Goddesses on principle.
Trivia
The name of the store is an obvious play on the real-world store Abercrombie & Fitch.
In "Idol Time at the Mall", Caitlin says that Albatross & Finch never has sales. This is contradicted later when she states that, while she and Tricia were shopping together, she beat her out for a purchase at a "Once-in-a-Lifetime Sidewalk Sale".

Of course, Caitlin might have meant with this initial statement that the store has sales very rarely.
Ad blocker interference detected!
Wikia is a free-to-use site that makes money from advertising. We have a modified experience for viewers using ad blockers

Wikia is not accessible if you've made further modifications. Remove the custom ad blocker rule(s) and the page will load as expected.