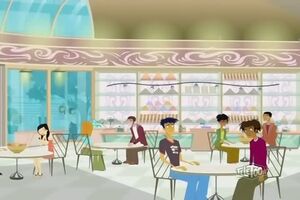 Cafe Coeur Brisé
(literally meaning "Broken Heart Café" in French) is a restaurant in the mall that has some bad mojo around it. Due to the name and the atmosphere, it's considered to be
the
breakup spot in the
Galleria Mall
--in fact, it's so well-equipped for breakups that the menu actually includes tissues.
It was first seen in "Date and Switch," where it's revealed that it's a relatively new place. In that episode, Jonesy volunteers to break the news to Wyatt that Marlowe wants to break up with him. Comically, the other couples in the café (mainly the girls) incorrectly assume that they are a gay couple that is breaking up.
Its second appearance is in "Great Expectations". There, it is the place Wyatt takes Caitlin for dinner on their first date. Due to the atmosphere of broken hearts and tears, the dinner was clear to be awkward and strained. Both were glad to leave the restaurant.  
The third and final appearance of the store is in "Quit It", where Wyatt breaks up with Lacey due to her liking him too much, to the point where she copied everything he did until the moment they both exited the cafe.
Ad blocker interference detected!
Wikia is a free-to-use site that makes money from advertising. We have a modified experience for viewers using ad blockers

Wikia is not accessible if you've made further modifications. Remove the custom ad blocker rule(s) and the page will load as expected.