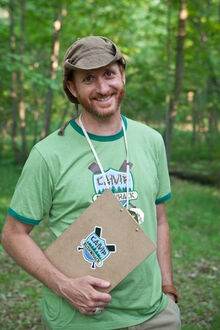 Christian Potenza is best known the voice actor of Jude (who appears in every episode of 6teen). He is also famous for voicing Chris McLean in the Total Drama series.
Christian Potenza has had some work in live-action television and movies as well as being a voice actor. Most of his filmography consists of bit roles in movies such as The Thin Blue Lie and The Tuxedo. He is most famous for his roles in commercials, which included work as a giant yellow toothbrush in a Listerine commercial, a sunflower in various Canadian Kia ads, and as the "Let's get naked!" guy in a famous Tostitos advertisement.
As a voice actor, Chris has participated in many series, such as the aforementioned 6teen, Total Drama, and the recent kids' series Scaredy Squirrel. He is best known for his laid back, surfer dude accent, which he frequently uses in his voice acting.
Trivia
His only appearance in Scaredy Squirrel so far has been in the episode "Life Slaver". Interestingly, said episode shares it's name with the Season 3 finale.
Apparently, he has started his own production company.
Although he first appeared in bit roles in various movies and TV shows, his first steady gigs were in advertising. He was able to use this as a springboard to launch him into the world of voice acting.
His home was once remodeled on the TV show Colin and Justin's Home Heist.
In The Tuxedo, Mr. Potenza was not the only voice actor from the show to appear; Stacey DePass made a cameo as well.
He was mentioned as an X-Games skateboard champion in 6teen. He was called "Christian Lotenza".
Gallery
External Links
Ad blocker interference detected!
Wikia is a free-to-use site that makes money from advertising. We have a modified experience for viewers using ad blockers

Wikia is not accessible if you've made further modifications. Remove the custom ad blocker rule(s) and the page will load as expected.