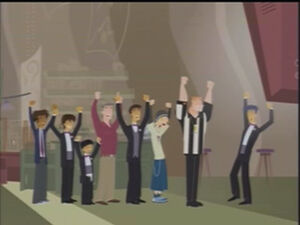 Diego and Robbie Garcia are Jonesy's two younger brothers. They seem to get along, but they often fight as well. All in all, they appear to have a normal, brotherly relationship. Diego is older than Robbie, and appears to be entering adolescence, while Robbie appears to be a bit older than Stanley (albeit just as mischievous), or approximately eight years old.
Not much is known about Diego, except that he is roughly a younger and shorter version of Jonesy, but is seen in his regular clothes as of Silent Butt Deadly. They are very agreeable on trying to dominate their stepsisters, especially by pranking them. It is possible that he is the planner and instigator of most of the pranks they pull off on their sisters.
Robbie is the youngest of the three Garcia brothers and is frequently troublesome. On many occasions when he appears, he is seen looking up women's skirts. A good example of this is in The Wedding Destroyers, where he peeks up Jen's dress while she's being fitted for her bridesmaid dress. When Jen notices, she kicks him backwards, tearing the dress and extending the time spent fitting her. He has also been seen tampering with electronic devices, such as the Khaki Barn phone. In "A Crime of Fashion", he renamed the Khaki Barn the "Cracky Barn" when Nikki brought him along to the Khaki Barn in order to annoy The Clones. Needless to say, this ploy worked, as the Clones hated Robbie.
On one occasion, Robbie was somehow able to pick up a cute woman, Amélie, whom Jonesy was unable to score with. While Diego's hairstyle is a copy of Jonesy's, Robbie is distinguishable by his bad-looking, salad bowl-style haircut.
Trivia
Robbie and Diego are similar to Jonesy in personality, with their habit of trouble-making all the time.
Robbie has a noticeable gap between his teeth.
Strangely, in the episode "Clonesy", Jen refers to Robbie as "Marshall".
Both boys are apparently perverts (which is no surprise, considering Jonesy); Diego was reprimanded by Courtney during the wedding reception for continually staring at her breasts, and Robbie has the aforementioned habit of looking up women's skirts.
Diego and Robbie have similar tastes in TV; in "Silent Butt Deadly," they are seen watching the same show together.
Robbie and Diego both have black hair and tan skin. From this, it can be deduced that their mother probably had black hair, as Mr. Garcia's hair is brown in color (although he does have tan skin).
Gallery
Ad blocker interference detected!
Wikia is a free-to-use site that makes money from advertising. We have a modified experience for viewers using ad blockers

Wikia is not accessible if you've made further modifications. Remove the custom ad blocker rule(s) and the page will load as expected.