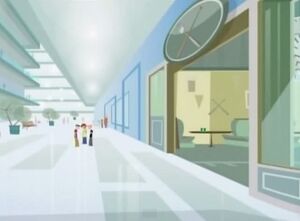 El Sporto's
(also known as
El Sporto
or
El Sportos
) is a sports-themed sit-down restaurant in the
Galleria Mall
. It is the restaurant that the gang frequents most often (outside of fast-food places such as
Wonder Taco
and
the Lemon
).
Jonesy
worked here twice--the first time, he was fired for indecent exposure (to summarize, he was given a field-hockey uniform involving a kilt, and on the day in question went commando, having the unfortunate luck to walk over an air vent as the wind was blowing); the second time he worked here, his job was as a busboy rather than a waiter. He was fired because he forgot that he had a job here.
El Sporto's seems to be the first-date restaurant of choice, as many times the gang goes on first dates there. One example is "The Swami," where Caitlin's first date with her boyfriend-of-the-week was held. Another example of this is "Pillow Talk," where Jonesy's dates all occur at El Sporto's. A third example is "Cheapskates", where Jonesy and Nikki double-dated with Jen and Griffin. The only notable times where couples haven't gone to this restaurant on first dates are in "The Sushi Connection" and "Great Expectations." In the former, Caitlin's date with Kyle Donaldson took place at Super Terrific Happy Sushi, and in the latter her date with Wyatt occurred at Cafe Coeur Brisé.
All the food at El Sporto's has a sports-themed name, and the employees there are made to wear sports uniforms as part of their job. One of the employees seen working there is a quite grouchy girl. A running background gag is she keeps switching sports; in one episode, she'll be in a football uniform, in another a roller-derby outfit, and in a third she'll be in a baseball uniform. This employee is the one most commonly serving the gang, and her harsh, dissatisfied demeanor is often remarked on by Nikki.
Trivia
The restaurant name is a pun on the term "El cheapo," which is another name for a cheapskate.
The official spelling of the restaurant name is unknown. Usually, it is referred to as "El Sporto's" or "El Sportos," but at times it has been called "El Sporto."
Ad blocker interference detected!
Wikia is a free-to-use site that makes money from advertising. We have a modified experience for viewers using ad blockers

Wikia is not accessible if you've made further modifications. Remove the custom ad blocker rule(s) and the page will load as expected.