Emma Masterson-Garcia
is the mother of
Courtney
,
Jen
and
Emma Jr.
and the stepmother of
Jonesy Garcia
and his two younger brothers,
Diego and Robbie
. She's the current wife of
Mr. Garcia
.
Biography
In "The Wedding Destroyers", Emma is present while Courtney and Jen are trying on their bridesmaid dresses. She is happy with the bridal shower her daughters threw for her before they were abruptly kicked out of Grind Me due to a rivalry with the stag party that Jonesy and his brothers threw for Mr. Garcia. When the rehearsal dinner does not go well, as fighting ensues between the kids, her and Mr. Garcia decide to postpone the wedding. As the kids settle their issues, the wedding happens as scheduled, and Emma happily dances with her new husband at their wedding reception.
In "Whoa, Baby", it is revealed that Emma's five months pregnant. As Jen does not know of the news, Emma tries to tell her when they go to lunch together, but chooses not to, because Jen has a bad day because of her stepbrothers. When Jen finally discovers the news, Emma comforts her and promises to talk to her later. Later, Jen makes Emma participate in a questionaire to find out the gender of the baby, and Emma later has an ultrasound test done, during which it's revealed that she's most likely expecting a girl.
In "Mr. and Mr. Perfect", she makes a cameo appearance at the wedding sitting with her husband, eldest stepson and his girlfriend.
In "Labour Day - Part 1", Emma goes into labor and is taken to the hospital. She begins to experiences contractions and waits for Jen to arrive, as Jen's her breathing coach. Emma freaks out when she finds out that Jen's stuck in the jail at the mall.
In "Labour Day - Part 2", Emma's contractions are getting stronger and closer together, which means that she's close to delivering the baby. Emma yells at Wyatt to go find Diego and Robbie, who're missing somewhere in the hospital, and she sends Caitlin to go find Nikki, who would serve in Jen's place as Emma's breathing coach in the case of an emergency. However, Jen makes it to the hospital in time and both she and Courtney are there for Emma to give birth to their new half-sibling, who turns out to be a girl. Emma and Jonesy's father name their new daughter Emma Jr.
In "6 Teens and A Baby", Emma asks Jen to babysit Emma Jr., so that she and Mr. Garcia can go out for the day.
Emma Masterson Jr.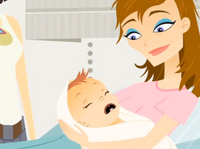 Emma Masterson Jr. is the daughter of Emma Masterson and Mr. Garcia. Her first appearance was in "Labour Day - Part 2", where Emma Masterson finally gave birth to her. She later appeared in "6 Teens and A Baby", in which the gang took care of her for her parents.
Appearances
Trivia
Although it has not been explained what happened to her first husband, Jen and Courtney's father, in the Wedding Destroyers, Jen specifically says he's not around.

While she does not say why he is gone, the subtext heavily suggests their father is deceased, but in "Deck the Mall," Jude claims that it's the first Christmas since Jen and Courtney's parents got divorced. Also, in "It's Always Courtney, Courtney, Courtney!" Courtney mentions that their parents want her to be more mature and responsible like Jen is. It is possible that they divorced and Mr. Masterson died somehow shortly after---assuming that he actually did pass away.

Yummy Mummy appears to be a friend of Emma's, since she was invited to Emma's bridal shower.
In "6 Teens and A Baby", Emma Jr. explains (through Jude) that Emma Sr. was a little nervous about leaving Emma Jr. with Jen, mostly due to Jen's lack of experience with being an older sibling, but finds Jen to be much more responsible than Jonesy, despite Jonesy being more experienced with being an older sibling.
Gallery
Ad blocker interference detected!
Wikia is a free-to-use site that makes money from advertising. We have a modified experience for viewers using ad blockers

Wikia is not accessible if you've made further modifications. Remove the custom ad blocker rule(s) and the page will load as expected.