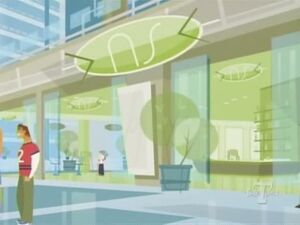 The
Galleria Mall Spa
is a store in the
Galleria Mall
. In the episode "
Girlie Boys
",
Jonesy
worked here. Apparently, the spa clientele is almost exclusively female, which is the main reason for his decision to work there.
Another thing that enticed him to work at the spa was his finding out that there were enjoyable spa treatments. While expensive, they made him look good, and allowed him to spend more time around the female clientele. Because he enjoyed it so much there, he figured that he should invite his friends, and suggested to Jude and Wyatt that they drop by and check out the spa.
The duo enjoyed the spa as well, both because of the girls and the enjoyable spa treatments. Jude liked it the most, especially for the treatments that made his skin smoother (like waxing), thus decreasing drag and increasing the speed he could go on his skateboard. The guys snuck in at night in that episode because it was too expensive for them to go there regularly (even with Jonesy's employee discount), and Jonesy got fired because of this. Jude turned himself green by trying to do his own seaweed wrap–he accidentally used glue to put it on, and by the time it was removed, the coloring had seeped into his skin.
At the end of the episode, Jonesy admitted that the spa was costly and didn't offer a good return on investment. He wondered why girls went there, and Nikki pointed out that it was so they could catch the attention of guys like him. Jonesy accepted this, and suggested to his female friends that they were due for a visit, which caused Nikki to punch him.
In "Cecil B. Delusioned", Caitlin took Nikki here as part of her "girly day" giving Nikki a makeover to get over a breakup as part of a prank for Jonesy's "Prank TV" segment.
In "Major Unfaithfulness", it is revealed that Caitlin's usual hair stylist, Andre, works here.
Ad blocker interference detected!
Wikia is a free-to-use site that makes money from advertising. We have a modified experience for viewers using ad blockers

Wikia is not accessible if you've made further modifications. Remove the custom ad blocker rule(s) and the page will load as expected.