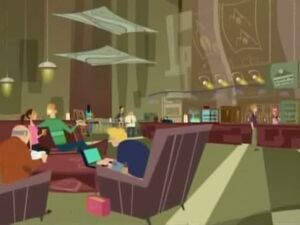 Grind Me
is a coffee house at the
Galleria Mall
.
Grind Me is Wyatt's favorite place to drink coffee, and, as seen in "Deadbeat Poets Society", his usual order is an extra hot double tall capuccino with extra foam. Wyatt actually tried to get a job there in "Take this Job and Squeeze It", but didn't get it due to a bad interview. Charmaine, Serena's friend, appears to be the manager here (or at least the head barista). Nikki's ex-boyfriend, Stone, used to work here, but it's unclear if he still does, as he may have quit or been fired. Regardless, since "Dirty Work," he has not been seen working at Grind Me.
In "The One with the Cold Sore", it also served as a place for teen movie auditions for extras where Jen managed to get a supporting role without actually trying out, along with Wyatt and Nikki scoring roles as extras without auditioning. Ironically, Caitlin and Jonesy, who were actually trying to get roles, were not put in the movie.
Trivia
In the series finale, "Bye Bye Nikki" Nikki's going-away party was held here.
This store likely parodies Starbucks.
Gallery
Ad blocker interference detected!
Wikia is a free-to-use site that makes money from advertising. We have a modified experience for viewers using ad blockers

Wikia is not accessible if you've made further modifications. Remove the custom ad blocker rule(s) and the page will load as expected.