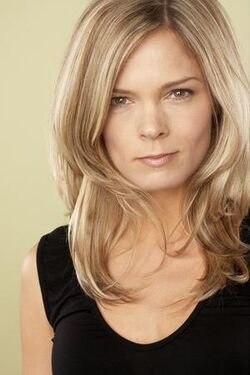 Megan Fahlenbock
is the voice actor for
Jen
from
6teen.
She was born on June 30th, 1971. In addition to voicing Jen in the aforementioned series, Megan also portrays Gwen on the
Total Drama series
and Jenny in the
Bakugan
franchise. She also plays a minor role in
Stoked
, playing the role of
Sam McCloud
. Sam is the little sister of one of the main characters, Fin McCloud, who has only been heard when they talk on the phone.
Fahlenbock has also had minor roles as an actor in a few live-action movies, including Get Over It, Sam's Lake, Resident Evil: Apocalypse, and The Baby Formula. In Sam's Lake, she plays the role of one of the main character's urbanite friends. Her role in "Get Over It" is unknown, although likely quite small.
Resident Evil: Apocalypse is her most famed role outside of voice acting (as a voice actor, it is the roles of Gwen in Total Drama and of Jen in 6teen); in it she played a woman who, suffering from a zombie bite, ultimately committed suicide to avoid becoming a zombie.
Megan Fahlenbock's largest live-action role was in The Baby Formula; there, she was one of the two leads. Her role was that of a lesbian who engaged in an experiment with her partner involving combining their DNA in the form of an embryo. Although this was her largest role, it is not her most famous, as the movie was an independent mockumentary that was only shown at a film festival.
Trivia
Megan holds a Bachelor's Degree in Anthropology from McGill University.
Before becoming an actor, she was a waterskier.

In that profession, she met with some success, as she performed around the world.

Megan has a brother named Charlie, and a sister named Annie.
Ad blocker interference detected!
Wikia is a free-to-use site that makes money from advertising. We have a modified experience for viewers using ad blockers

Wikia is not accessible if you've made further modifications. Remove the custom ad blocker rule(s) and the page will load as expected.