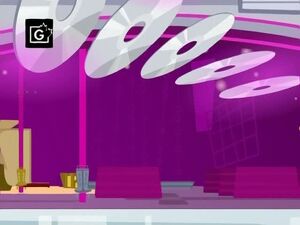 Spin This
is the music store that
Wyatt
originally worked at. It was his first job at the mall. Each employee is given a section to sell CDs in. Wyatt had to start out working in the country section. Unfortunately, country is Wyatt's least favorite music genre.
Wyatt dated the store's manager, Serena, until she broke up with him via text message, then publicly fired him from Spin This after Wyatt vindictively embarrassed her for dumping him in favor of fellow employee Chad (whom Serena had previously dated).
Marlowe, Wyatt's girlfriend for most of the third season, briefly worked there in "Love At Worst Sight" (to the chagrin of Wyatt, who disapproved of her budding friendship with Serena because of Serena's past treatment of him) until she quit after she found out that Serena, who had become envious of Wyatt and Marlowe's relationship, told Wyatt in a note (which Marlowe found on the store floor) that she still had feelings for him.
Trivia
In "The Slow and Even-Tempered", Serena said she fired one of the employees, implying that there are more employees than just her, Wyatt, and Chad working there.
Ad blocker interference detected!
Wikia is a free-to-use site that makes money from advertising. We have a modified experience for viewers using ad blockers

Wikia is not accessible if you've made further modifications. Remove the custom ad blocker rule(s) and the page will load as expected.