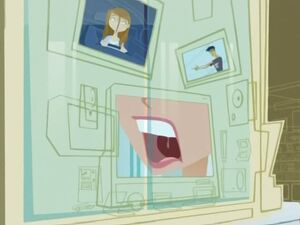 Stereo Shack is an electronics store in the Galleria Mall. Darth is the manager here. Nikki worked here for a short time, after being fired from the Khaki Barn in "Welcome to the Darth Side". Before this, Jonesy got a job in "Breaking Up with the Boss' Son". There, he was beaten in a light-saber duel by Darth. Darth then made Jonesy do whatever he asked, threatening to show the security tape of his humiliation to the entire mall if he misbehaved. Darth eventually fired him for not being "Jedi Knight material" and showed the tape on the mall's jumbo screen at Nikki's behest.
The uniforms here consist of a blue shirt, tan pants, and blue tie. This is Darth's normal style of attire even when outside the store. It is suggested by the manager that employees there add a cape, lightsaber, or helmet to their store outfits. It is likely that he suggests this because he is a huge Star Wars fanboy.
At some point, the store must have merged with "Things That Beep". This is made obvious by the fact that, although Darth used to work at Stereo Shack, in later episodes he works at the Beep. Further driving the point home is the fact that he works from the same storefront throughout the series.
Trivia
The name is an obvious play on RadioShack.
Two of the main characters have worked here.
Oddly enough, Darth now works at Things That Beep. Strangely, though, the store's display is the same; this suggests that Stereo Shack was bought by Things That Beep.
Something that's even odder is that Blade and Christo, who used to work at Things That Beep, have left for Taj Mahome Video. It's possible that Stereo Shack merged with Things That Beep, and the duo quit upon learning that Darth was a manager at another location (a former Stereo Shack).

It's also possible that, as Darth was the manager here, he was also made a manager at the other location of Things That Beep and fired Blade and Christo for bullying him in "Breaking Up with the Boss' Son".

Specific items that Stereo Shack offers (that have been mentioned) include:

Positronic Calculators
Headphones
3AMP Transmitters
Auxiliary Chords
Batteries
Stereo/SurroundSound Speakers
Personal Video Game Players
Camera Wires (for spying)
Ad blocker interference detected!
Wikia is a free-to-use site that makes money from advertising. We have a modified experience for viewers using ad blockers

Wikia is not accessible if you've made further modifications. Remove the custom ad blocker rule(s) and the page will load as expected.