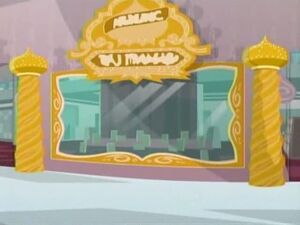 Taj Mahome Video
is a video store in competition with
Underground Video
.
Jonesy
and
Jude
once applied there when
Stick It
was closed but were rejected when two Taj Mahome employees, the cocky jocks
Blade and Christo
, recognized Jonesy (whom they fired from
Things That Beep
in "
The Five Finger Discount
") and Jude (who had made Blade faint when he found a cockroach in his hot dog). Jude and Jonesy were then kicked out of the store, but not before telling everyone Blade had fainted.
Blade and Christo are not the only employees there, as it is also seen that it employs the Taj Mahome Belly Dancers as help/mascots. Also, in "A Crime of Fashion", Caitlin mentioned that a cute guy named Ryan works there. Not only this, but although Blade and Christo seem to hold somewhat lofty positions in the store hierarchy, they do not seem to manage the store, which suggests that they do indeed have a boss who never appears.
In "Major Unfaithfulness", Taj Mahome Video buys out Underground Video in order to eliminate the competition as well as expand on its video genre specialties, in this case Indie Films. Wayne, Wyatt, and Jude were not happy about this, but thanks to Jonesy, they were able to repel enough customers to force Taj Mahome to sell off Underground, which Wayne happily bought.
Trivia
The name is a portmanteau of the famous Muslim monument called the Taj Mahal (which is located in India) and "home video".
It is revealed in "Major Unfaithfulness" that Taj Mahome Video leads all video stores (at those in Canada) in sales and rentals of films of every genre and category except for independent films. This is why they attempted to claim Underground Video's property.
Ad blocker interference detected!
Wikia is a free-to-use site that makes money from advertising. We have a modified experience for viewers using ad blockers

Wikia is not accessible if you've made further modifications. Remove the custom ad blocker rule(s) and the page will load as expected.