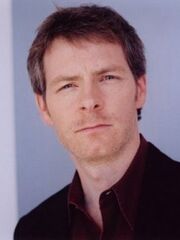 Terry McGurrin is a Canadian voice actor and writer. He is most famous for voicing Jonesy on the TV series 6teen. He has had other roles on series such as Stoked and Scaredy Squirrel. In addition to this, he is a semi-successful stand-up comic.
His role on 6teen was mainly to voice the character of Jonesy. Another role he had on the show was to voice Jonesy's doppelgänger, Smithy. For this role, he used approximately the same voice as he used with Jonesy, only with a slightly different pitch and style of intonation when it came to the character.
Terry was also a writer on the show. He has significantly helped with various episodes, such as "Over Exposed", and actually wrote two episodes: "Sweet 6teen" and "Silent Butt Deadly". In addition, he wrote the dialogue for "The One with the Cold Sore".
On Stoked, his main role is that of the main character, Reef. Like Jonesy, Reef is a highly self-confident womanizer with a huge ego. Further similarities are there as well; Reef once said that boys were better than girls, which is almost exactly what Jonesy said in "Bring It On". The character of Reef also has a relationship with one of the six main characters in said show, specifically a sarcastic, short-haired girl with strong opinions.
Terry McGurrin also voices two minor characters: Moe and Kianu Kole. Moe is an unseen character who is apparently one of Reef's friends back home. He is often calling Reef to tell Reef how awesome his job has become. Kianu Kole, meanwhile, is a professional surfer who may live at the resort. Reef wanted to have a bromance with him, something Mr. Kole absolutely did not want.
Terry has a larger role on the show Scaredy Squirrel. There, he voices the main character and works as a story editor on the show. This is one of the largest roles he has had in the production of a series.
As a stand-up comedian, Terry McGurrin has toured extensively. He has done toured clubs, been sponsored by corporations, and was part of 8 tours that entertained overseas troops. He has taped 3 comedy specials that have appeared on CTV. In addition, Terry has been nominated for 4 Gemini Awards and 3 Canadian Comedy Awards. He currently lives in Ontario.
Ad blocker interference detected!
Wikia is a free-to-use site that makes money from advertising. We have a modified experience for viewers using ad blockers

Wikia is not accessible if you've made further modifications. Remove the custom ad blocker rule(s) and the page will load as expected.