Hey, Geoff109. Welcome to the wiki!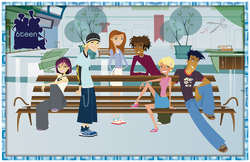 Welcome to the 6teen wiki, and thank you for your contributions! There's a lot to do around here, so I hope you'll stay with us and make many more improvements.
Wiki Activity is a great first stop, because you can see what pages other people have been editing, and where you can help. Seriously, check it out.
Questions? You should check out what we're about here! Also, if you want to be a good editor, you should read the rules. If you're wondering where we need the most help, this blog pretty much outlines it.
Please sign in every time you edit, so that we can recognize you!
It's great to have you around. Stay awhile and edit! And remember, you don't have to be 16 to join!
ZapSpit it out!All I wanna do is stamp you out! 00:45, July 9, 2012 (UTC)
Reminder
"I'm just saying!" -- Jen

Geoff109, please stop moving pages without consulting an admin on the 6teen Wiki. This is a reminder, and not a warning. If you continue doing this action, a warning will be issued. Thanks for reading, and keep editing.
There was no need to move the list of DVDs to "6teen videography". They're fine like they are.

Sik Dude

19:56, August 10, 2013 (UTC)