Hey, Wolfman 1. Welcome to the wiki!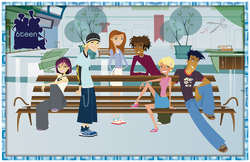 Welcome to the 6teen wiki, and thank you for your contributions! There's a lot to do around here, so I hope you'll stay with us and make many more improvements.
Wiki Activity is a great first stop, because you can see what pages other people have been editing, and where you can help. Seriously, check it out.
Questions? You should check out what we're about here! Also, if you want to be a good editor, you should read the rules. If you're wondering where we need the most help, this blog pretty much outlines it.
Please sign in every time you edit, so that we can recognize you!
It's great to have you around. Stay awhile and edit! And remember, you don't have to be 16 to join!
Ban
You have been blocked for vandalizing pages. This includes stating that "she [Caitlin is] a stripper" in the Trivia section of Caitlin's page, stating that a machine "made her [Nikki] a sexy hot slave" in the plot summary of Employee of the Month, saying that Jen was "hypnotized to make out with Nikki", and stating that Nikki was "a hot slave" who "...loves Chrissy". If you wish to protest your ban, you may do it here on your talk page. Have a nice day! XYDUX
Note
Do not remove notices from your talk page. The rules state that comments should be removed if it is not signed.

Sik Dude